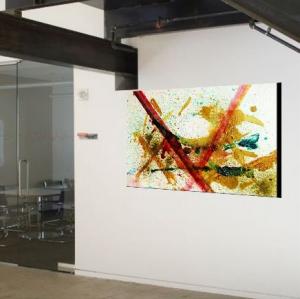 Stages of my latest painting - a work in progress...

Duck egg blue' An abstract oil painting with water based oil paints (Winsor & Newton - Artisan) on canvas block of cloth - 14" x 18" Palette - Phthalo blue/green Yellow Ochre Burnt Umber Crimson Alizarin

I just wanted to portray the purity, colors and explosive dynamics of birth, whether it be in a womb or nest. Showing the aura of light within the egg and the jagged edges life will bring. Portrayed by the softness and warmth of the nest and the outer spiky grasses surrounding the cradle.

This photograph inspired the painting I took it at the river yesterday, my Duck was away for a swim and so this is the very last egg...




WIP 1




I cut out a cardboard egg, Reeds from the nest area and laid them onto the canvas.

Using my trusty old brushes to splatter paint over all.

Now we shall let it dry...

WIP 2




Right! I put the hairdrier on it so now it needs more color more dynamics ...

WIP 3




Getting the big brushes out now and adding crimson alizarin to the palette. That was lucky the cardboard egg curled at the edges - it will give more light and shadow effect.

This is when the soul comes into the painting with the big brush strokes.Removed the cardboard egg and with large bold strokes portrayed the reeds by the river, in the shape of a cradle. With two brave strokes depicted the safety inside with barring at the entrance to the nest. My palette was chosen to portray the blood (red) gore (green) purity (blue/white) earth (yellow/brown) of birth.

FINAL -




Well I think it's finished! ...must not fiddle.

There's an old story - it takes two to paint,the Artist & someone to knock him over the head when it's finished lol!

I would be interested to know if you had seen what it was without the explanation?

Probably not teehee! but that is the mystery of abstract art everyone sees it differently.